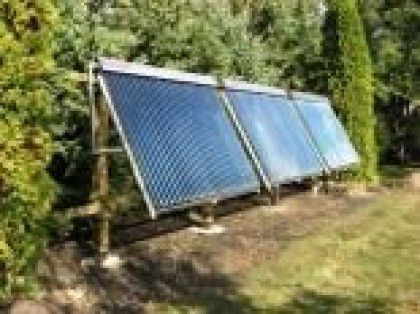 If you have been looking for solar water heating systems, by now you could be overwhelmed with the number of options available to you. Many people do not believe solar water heating can work in Canada or colder USA climates as it is so cold during winter.
In fact solar water heating works incredibly well even during the -40 deg C days that are all too common in a lot of Canada and Northern USA.
Solar Collector Prices Residential Solar Water Heaters
According to SolarBC the average cost of a Domestic Solar Hot Water System is $6700. This is a very broad average, a lot depends on the size of the house, and how many panels you need, access from the roof to the mechanical room, condition of the roof, and do you need a new water tank and/or a new hot water boiler. These are some of the variables that you may encounter. Our DIY Solar Water Heating Kits are designed to be the most cost effective residential solar water heaters in North America. Quick installation time saves you costs. Great performance increases the ROI. Long life expectancy secures your investment.
Our SunRain 30 tube solar vacuum tube collectors cost about $1250 each. The rest of the costs are tanks, piping, insulation, heat exchangers, glycol, valves, Solar Controllers and Pumps and of course any time to install the system. However once installed you can double your output simply by purchasing another collector. So for an additional $1250 you have doubled the output of your system in most cases.
Most other evacuated tube solar panels in North America cost in the $1500 to $3500 range. Ask around, see how much any of our competitors charge (Apricus, Thermomax, Bosch, Sunda - don't forget to ask the cost for replacement tubes?)
Visit the solar store for all prices and details
If you find any cheaper, first ask how much energy they produce, read our newsletter on the heat produced by our Evacuated Tube Collectors. It boils down to COST PER BTU, it is OK if a panel costs more if it produces more heat. The cost per BTU calculation will help you pick the best value panel. Here is
More often than not, if you find a cheaper solar collector for sale, ask what the Peak Power output is in Watts! it is likely to be very low when compared to the SunRain Solar Collectors producing 2.1 Kw Peak performance.