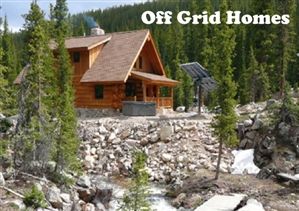 Many people who buy our solar systems do so because they wish to be "off grid". They want to be able to provide power to their homes without being dependent on the usual utility companies. For most people who live in the city, going off grid is not really option because the amount of energy our homes consume is so great that to go off grid would be so expensive it is not really worth doing. Instead city owners are better off supplementing their electric heating system with our solar water heating packages and on-grid PV systems.

There are a growing number of people who want to live off grid, including commercial lodges. Also people living in remote areas can benefit from these systems if their utilities are either unreliable or expensive to run if they are powered by diesel or gas generators.
If you heat your water by propane which has to be trucked in frequently, then you will also find these off grid solar hot water products valuable.

We have two off grid solar water heating solutions.
Integrated Solar Water Heater - This all- in-one solar water heating system is for seasonal use and is ideal for summer cottages and vacation property. The large insulated double walled stainless steel tank houses the potable water. Vacuum tube collectors are inserted directly into the tank and heat the water inside the storage tank. While these systems are very well insulated, there is a chance of freezing when temperatures drop below freezing and as such they should only be used in when there is little chance of freezing and in Canada are seasonal usage only. However, in the Southern USA and Caribbean this are ideal systems for all year round!
Solar PV pump and Panel - This is our closed loop Solar Heating System but replaces the RESOL 110 VAC pump station with a Laing DC5 magnetic pump that can be powered directly off a 30 WATT solar panel. The variable speed control works such that as the solar energy increase so does the speed of the pump. This system can be used with glycol in a closed loop and either an exterior heat exchanger or an internal tank heat exchanger.
Both of these products are ideal for Off-Grid because they eliminate the need for the solar water heating system to be connected to the main electricity grid.