We offer pre-engineered commercial solar water heating packages that come in sizes ranging from 240 evacuated tubes to 480. Each package comes complete with every component required to successfully install and operate a larger commercial solar water heating system. If you need more energy, then we simply run two or 3 complete packages in parallel until the energy demand is covered.
Our pre-packaged systems are designed to be cost effective and quick to install.  No advance solar heating knowledge is required as the system has been built to include all the critical parts integrated into one compete package. This includes:
Collectors

Mounting brackets

Stainless steel flex pipe

UL certified solar storage tanks

Quick connect high temperature fittings

Solar Auto Air Vent

Solar Pump Station with integrated Heat Exchanger

RESol BS Solar differential controller

Hi Temp Solar Glycol

Solar controller

Optional Remote Monitoring Service
Our packages all come with the option for online monitoring. The service is free of charge but does require an additional DL2 data logger to be connected to the RESOl Controller.
Sizes
The Commercial solar heating system come in 3 sizes SCH-8, SCH-12, SCH-16 and each size has a pre-defined storage tank size. The tank size will vary depending on the application. If the application has a consistent high volume of hot water usage then a smaller volume of storage is needed. If the system peaks and valleys in the hot water consumption then larger storage may be needed.
For most projects the economics make the greatest sense by using multiple 119 gallon tanks placed in parallel. However for certain projects we can also supply single tanks in large sizes up to 1000 gallons. However transportation costs and installation logistics can be prohibitive.
Solex DWHX
We use RESolSolex DWHX commercial pump station to transfer energy to the solar loop (Supply) and the Hot Water Loop (Demand). The Solex is an advance heat transfer station that uses a large stainless steel double wall heat exchanger with 30 plates to efficiently move the energy form the solar to the hot water.  The double wall heat exchanger is certified by ANSI standards for use with potable water. Because the heat exchanger is double walled, it has a built in leak detection with is required in certain states and provinces such as BC.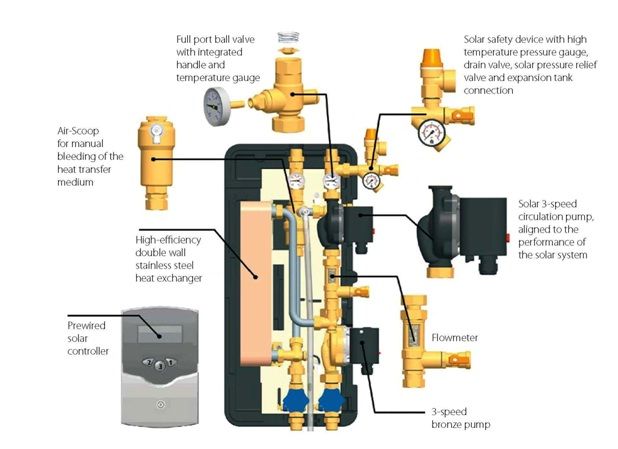 Contact us for more information on our commercial solar water heater 1 800 759 8990.