---
Special Offer for subscribers only.
We have new stock arriving soon and the need the space in the warehouse.....see below for all details.
Fixed price shipping on Integrated Solar Tanks
Free shipping on Sorel TDC4 controllers for a limited time
Limited stock of 20 tube collectors available - Free shipping
---
CSA Approval - finally......
We have written before about the nightmare that is the "CSA approval" of solar water heating collectors in Canada. Its not a pretty stort, one which does nothing to help bring down prices for people. (see here for the story).
However we have finally managed to get the right to stick a lable saying "Certified to CSA Standard F378 series 11" on the collectors.
What does this mean for you? As for the quality of the collectors, not much, they are the same high quality as before, it just means we paid a ton of money and went through a painfull beauracratic maze to get this sticker and this should now satisfy your plumbing inspector if you install one on your house! This certification applies to all the L51S-30, L51S-20, L51S-10 models.

---
Integrated Solar Tanks
These are a great solution for people wanting smaller solar water heating systems, either for offgrid homes and businesses. These solar water heaters come with a built in non pressurised tank which fills with water which the sun then heats using the solar vaccum tubes.
Save $$$
Tank Included
No Pump Needed
No Heat Exchanger Needed
With "normal" solar hot water systems, using the L51S-30, L51S-20, L51S-10 models, the installer needs to find a suitable tank and heat exchanger and build them separately in the house or business. Which this arrangement does have some advantages, it does cost more money and can be more complicated to install.
These Integrated solar tank collectors come with the tank prebuilt in which simplifies the system greately and it also saves a lot of money. We have brought in two different models.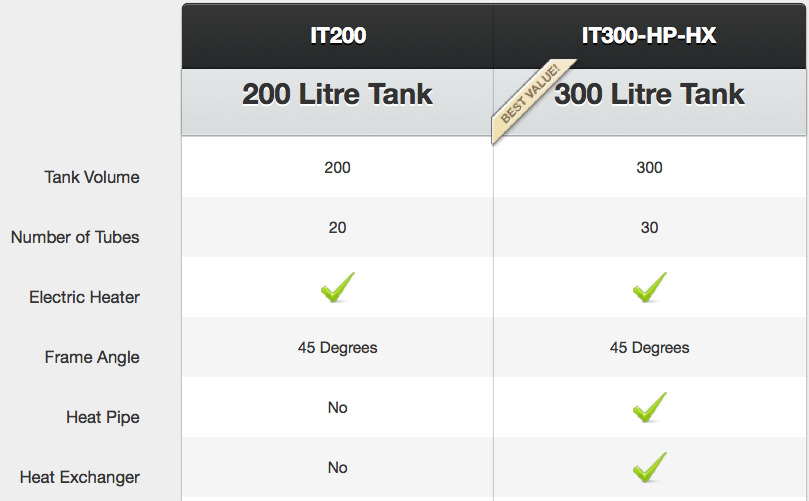 For more information on these models please visit the product pages which describes.
For subscribers to this email Only
Special Offer - for email subscribers only
For subscribers to this email only we will ship these items to most major Citys in Canada for a fixed cost of $150 or you can pick it up for free in Vancouver. Delivery will be to a local freight depot in the city where you can pick it up in person. Delivery to a residential home or business is usually possible for an extra charge.
This is for online orders, simply buy the item via the store and then mention in the notes we promised to give you a fixed price shipping charge.
If for whatever reason the shipping company can't deliver it to your address home then we will not process your payment and the order will be cancelled.
We have limited stock of these this offer applies for the first 5 orders made.
These items will be in stock in the next 2 or 3 weeks time. If you order it via the store, your card will not be processed before the items are ready to ship. We will contact you first to arrange delivery .
---
Solar Pumps for closed loop and drainback systems
We often get asked about solar pumps. We do sell some pump stations and some individual pumps but we also want to help people build their own solar systems for the best possible proces. As such we have put together article describing what pumps you can use and how to design the system for your self.
In the artcle is information on
Types of pumps
Closed loop and Drainback
Material Choise - Brass / Cast Iron or Bronze
Pump Sizing
Flow Rates