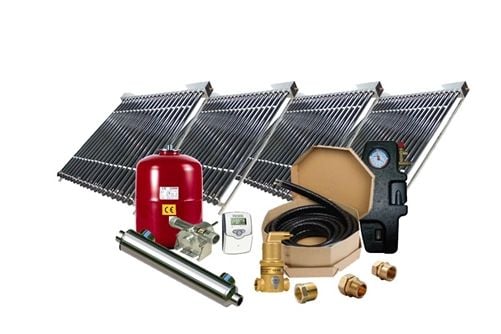 Solar Pool Water Heater SPH-5
Solar Pool Water Heater SPH-5
How it Works
A Solar Pool Pump Station and Controller is used to move heated water (or glycol) through the closed loop pool heating system. The pool water is circulated through a heat exchanger instead of directly through the solar pool heater collectors. This means the harsh environment of the chlorine or salt water never is in contact with the solar loop. This is a critical factor in longevity of the solar pool heating system. A small solar pump activates the solar heating loop when the temperature of the collectors is greater than that of the pool water. The computer controller has many other features such as freeze protection which activates the pump when there is a chance of freezing to minimize damage to the system. It also has nocturnal cooling that will activate the solar loop during the night if the pool gets too hot.
The complete package comes complete with every thing a DIY installer will need including stainles steel line sets and full detailed installation Instructions. Free Technical Support call 1 800 317 9054
Solar Pool Heater with Vacuum Tubes
Easy to install solar pool heater with quick connect brass fittings! No soldering!
5 x TZ58 1800 30R Vacuum Tube Collector
100 ft stainless steel Aurora Flex solar piping 5/8" with 3/4" high temp EPDM insulation plus sensor wire
Pump Station with fill drain valves, temp gauge, pressure release, glass flow meter, Wilo Star 16 3 speed pump
Stainless Steel Heat Exchanger SP-300
Solar Expansion tank - high temp rated
Fill Drain Positive Displacement drill pump
Solar Controller with temp sensors
All quick assembly fittings