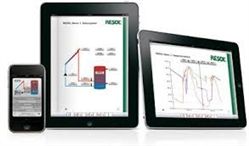 Solar Monitoring with VBus.net
Monitoring a solar heating system has never been easier. RESOL new Vbus.net allows users to quickly connect to a web based interface and access their water heating system any time. You can make customized changes, show real time and historic performance and share your system data with others. The new VBus.net system monitoring system includes smart phone apps so you can even check your heating system using an android or an Apple device.
VBus.net is a FREE service portal that offers the possibility to access solar thermal system data, without any configuration effort, from all over the world. Thus, no DSL router configuration is required. To use the VBus.net service, the system must be equipped with a RESOL DL2 or RESOL DL3 Datalogger. After signing on at www.VBus.net, the Datalogger can be registered with the system. VBus.net enables users to access their solar thermal system data from all over the world, just by using a regular Web browser. No additional software or app is required, only a registered account for the VBus.net service, a Web browser and an Internet connection. Of course, many mobile devices are supported as well.