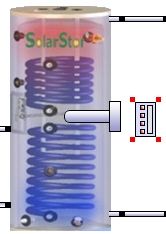 Residential Solar Water Tanks
A solar tank is a critical part of your solar hot water system. The type and size of solar tank you need is often a poorly understood part of a system, mainly because there are so many variables to it. We use the SolarStor Hot Water Tanks manufacture in the USA. Our Solar Storage tank are the only UL certified water tank that has both a top and bottom internal heat exchanger as well as a middle 4.5 Kw back up heating element.

This allows a many more options for solar hot water. With this arrangement you can have both pre-heat solar tank and a supplemental. The supplemental tank allows you to use only one tank and during periods of poor solar, the electric element supplements the solar energy. This also means that when investing in solar hot water you no longer need to purchase two tanks, making the payback that much better.