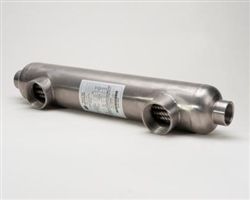 Solar Heat Exchanger
Solar heat exchanger for pool, hot tubs, and home heating

In most Northern Climates solar water heating systems use heat exchangers as a means to separate the solar heating fluid from the source requiring heat. This is normally required when the two mediums are different such as glycol for solar and potable water or pool water. A solar heat exchanger is designed differently than other standard heat exchangers. This is because in a solar heating loop the fluid is flowing at a much slower rate than that of say a boiler system. A typical solar heating loop is rated for about 1-2 GPM. A traditional boiler is rated at 20-30 GPM. This slow flow requires a different approach to a heat exchanger.
Internal or External Heat Solar Heat Exchanger
An Internal Heat Exchanger resides inside the tank. Because they sit in the water there is no decrease in performance due to loss of heat as all heat is lost directly to the source. The disadvantage of this heating system is that any repairs to the system may mean replacing a new tank.

An External Heat Exchanger sits outside the tank and is easy to access and service. However, it will loose a small amount of its heat to the surrounding air. The big advantage to and external heat exchanger is the initial cost of the system is much less and that make them attractive.