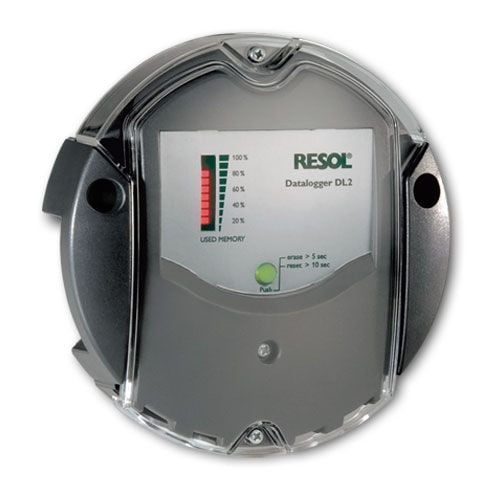 RESol DL2 Data Logger
RESol DL2 Data Logger is used to connect to any Vbus terminal on any of the RESol solar controllers. This data logger monitors the solar heating system and has internal storage as well as a Memory card slot for hold more information. The Data Logger can be accessed through a computer or smart phone to get both real time and historic data performance through the VBus.net service that is FREE with the purchase of the DL2 Data Logger.
Power supply:
input voltage of mains adapter: 100 ... 240 V~,
50-60 Hz
rated current: 350 mA
input voltage of datalogger: 5V DC ± 5 %
Data interface: VBus® for connection to RESOL controllers, LAN
Housing: plastic, PC-ABS and PMMA
Mounting: wall mounting
Indication/Display: bar LED for monitoring the memory capacity, 1 illuminated pushbutton for indication of the SD card status
Ingress protection: IP 20 / IEC 60529
Ambient temperature: 0 ... 40 °C
Dimensions: Ø 130 mm, depth 45 mm
Memory:
180 MB internal memory, with a logging interval of 5 min.
sufficient for:
30 months for a systems with one DeltaSol® M, one HKM and one WMZ module
60 months for a system with one DeltaSol® M, and one HKM
120 months for a system with one DeltaSol® E