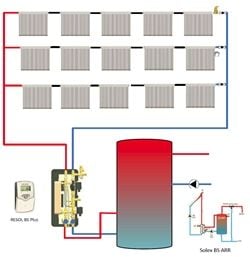 Commercial Solar Water Heating
Commercial Solar water heating is one of, if not the best investment in your business. It makes sense not just on a financial basis but as great advertising for your business.

The systems work more or less exactly the same as residential systems, except they are larger in scale and use a larger storage tank. The list of suitable projects is extensive. We use the PAW Solex DWHX solar pump station with is built in double wall heat exchanger. This system is designed for potable domestic water application and certified to ASME Water standards in North America.