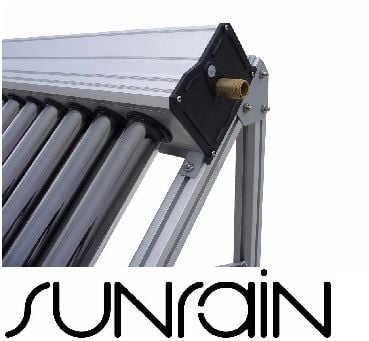 20 Tubes - solar water heating collector
Evacuated Tube Solar Collectors
These solar collectors have 20 high power evacuated tubes. The 20 tube collector comes included in the price 6 mounting brackets to securely fasten to the roof. If you need to adjust the angle of the collector then you can order the adjustable mounting kit sold separately.
This will provide hot water for a normal house with between 1 and 3 people in it, depending on the amount of water you use in your household. Recommended tank size approx 50-60 Gallons PER 20 tube collector.
Roof or Wall Mounting brackets (optional adjustable frame can be purchased separately)
These collectors are ideal for a number of purposes.
Can be linked in series to make bigger systems for people with larger houses or for commercial applications, or for people that wish to make a larger percentage of their annual hot water with solar.
Space Heating - when used in larger systems, multiple collectors can be used to assist in heating both residential and commercial buildings.
SunRain Evacuated Tubes are the most powerful SRCC tubes in North America!
SRCC certified water heating collectors
Specification
Heating Series Heat Pipe
TZ58/1800-20R
Heating Series Heat Pipe
TZ58/1800-30R
Number of tubes
20
30
Frame & manifold
Aluminium
Aluminium
Heating type
Copper Heat Pipe
Copper Heat Pipe
Lenth of Tube
1800mm
1800mm
OD of tube
58 mm
58 mm
ID of tube
50 mm
50 mm
Glass Thickness
2 mm
2 mm
Water Capacity
1.8 L (.4 gallons)
2.6 L (.6 gallons)
Weight dry
175lbs
220lbs
Weigh Wet
180 lbs
230 lbs
Max BTU/HR
5000 BTU/hr
7,517 BTU/hr
Pressure
116 psi
116 psi
Glass Vacuum Material
Borosilicate glass
Borosilicate glass
Vacuum
P<5x10 -3 PA
P<5x10 -3 PA
Frame
Included
Included
Warranty
10 years
10 years