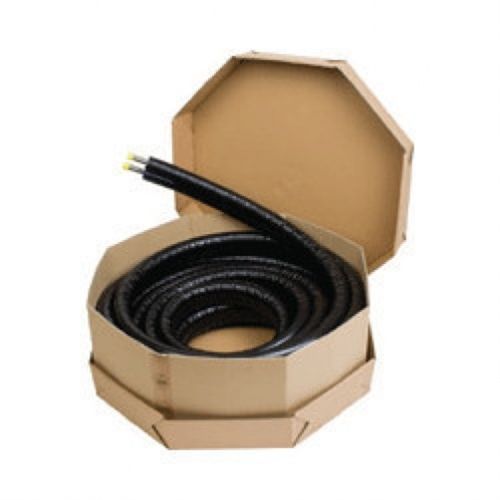 1 Inch Flexible Twin Solar Pipe, 2 x 50ft Roll
1 Inch Flexible Twin Solar Pipe, 2 x 50ft Roll
Designed for quick installation of solar hot water system. This flexible steel pipe speeds up the solar installation and provides a much more economical way of running the pipes to and from your roof to the mechanical room and provide a leak free installation.
Flexible Stainless Steel Tubing
UV Resistant protective coating
3/4" Thick EPDM Insulation
Physical Size
Size:
Approx Weight: 12Kgs
Insulation Properties
Closed Cell Elastomerer, EPDM
Temperature Range: -50DegC to +150 DegC
Water Vapour Permeability: >3000
Thermal Conductivity: W/(m.K)
0 DegC: 0.034 (R Value Approx
24 DegC = 0.037
32 DegC = 0.038
40 DegC = 0.039
Jacket
UV Resistant Material
Tough external Coating to protect from Birds.
Temperature Sensor Wire
Operating range: -1000DegC to +200 DegC
Copper Wire: 0.75mm2
Silicon Insulation
Voltage: 300/500 V
Electrical Resistance: 23 Ohm/km
Stainless Steel Pipe
This is a 304 Steel, this is the sort of steel that is used in Cooking pans, sinks, fridges, tabletops etc. This type of steel is one of the most frequently used types of steel. It is used widely in food processing equipment, in particular in the brewing industry for beer and wine. In short it is used a lot and is good for fluid applications.
There are other types of flexible steel pipe available that use 316 Steel. 316 Steel has a higher strength and wear resistance and is typically used in Marine environments.
We can also supply a 316 grade flexible steel pipe however it is a higher costs and is not necessary for the solar applications.